How to Find your Honda Radio Code
There are 2 ways of finding your Honda serial number.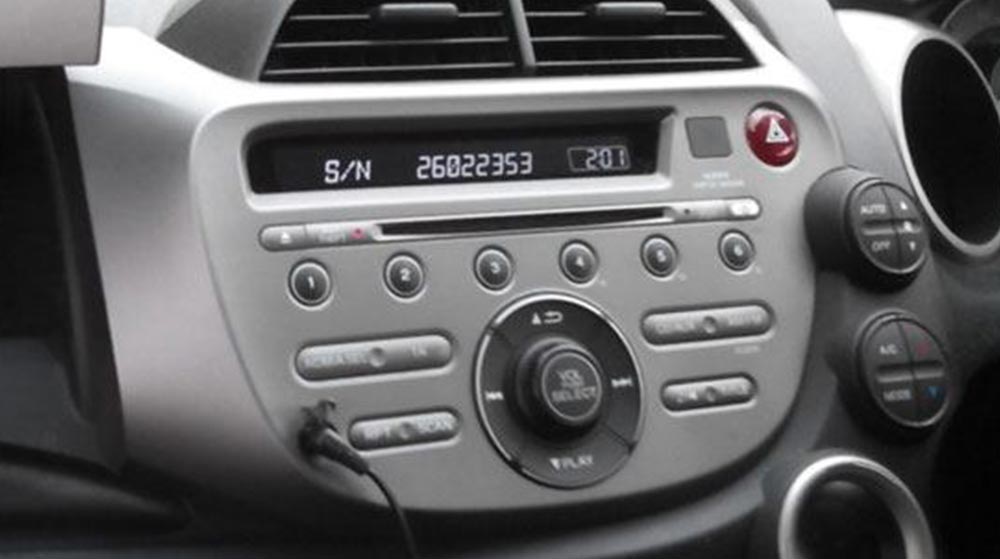 Method 1
Some models of radio allow the serial to be shown on the display.
To do this, hold down buttons 1 & 6 together until the screen display a series of numbers.
Your serial will be similar to the following example: U3000 L1234.
If for any reason the serial does not show, you must use method 2 to obtain your serial number.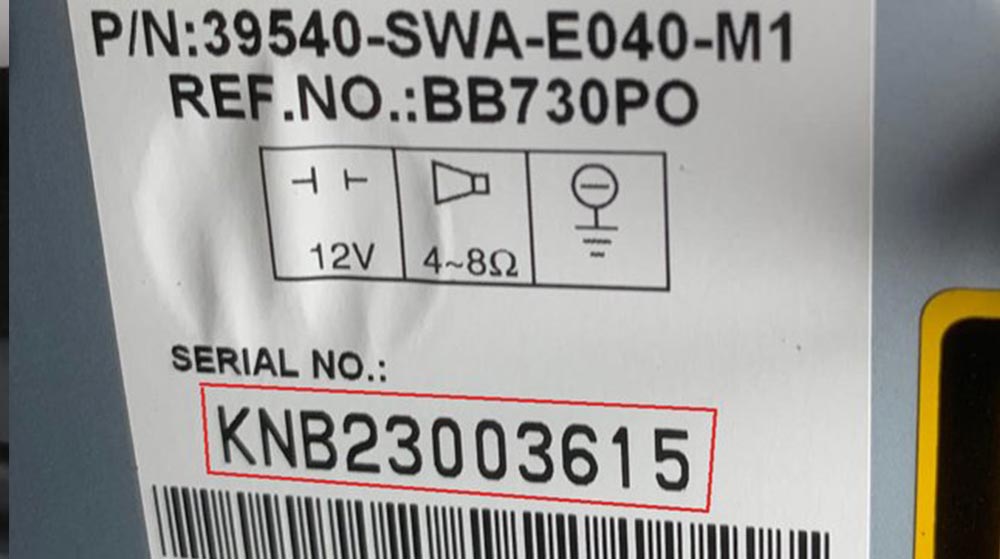 Method 2
Removing the radio from the dash is needed for many Honda and can be done Easily with prying tools and a screwdriver.
First remove the surrounding plastic from around the radio, this will reveal the 4 screws holding the unit in place.
Once removed, all Honda radios are made with a sticker label on the back or side, this is where your serial number is located.
Example serial numbers: U3000L1234 or 22042493.
If your serial begins with 4000, your radio must be decoded by a local dealership only.
How to Enter your Honda Radio Code
Turn on the radio, "CODE" should be displayed on the screen
To enter the code only requires the use of pre-set buttons 1-4.
Start with button 1 pressing multiple times until the correct first digit is shown on the screen
Next repeat the same with buttons 2,3 and 4 until the correct code is displayed.
If you go past your desired number, keep pressing until cycled past 9 and goes back to 0.
To input your Honda Radio Code you need to press and hold one of the following for a few seconds and let go: 5, 6 button.
Worked a treat!!!
Verified Purchase
I was a little skeptical initially, but the code worked a charm! Luke responded to my email almost instantly and I tried the code and it worked. No issues!! Highly recommended and waaaaay cheaper than any STEALERSHIP prices! Keep up the good work!!
Excellent
Verified Purchase
Brilliant service , would definitely recommend .
Thank You!
Verified Purchase
Nissan Note 2006 after battery change the radio stopped working. I got the right code from here. Thank You!
Fantastic Service
Verified Purchase
Fast and easy service would highly recommend for the future. Radio up and working hassle free.
Great service from Luke. Nissan connect all fully working again
Lekker snelle en goede service
Verified Purchase
Ik had een code nodig voor mijn radio en deze ontving ik zeer snel en op professionele wijze.
Fast,Working Code,Easy use
Verified Purchase
It was very fast and worked not like the other sites. I can't say bad things about it. Good luck for the rest
hat einwandfrei funktioniert...DANKE
Verified Purchase
anfangs war ich skeptisch. Aber der Code der mir zugesendet wurde funktionierte einwandfrei. THANKS at first I was skeptical. But the code that was sent to me worked fine. THANKS
FAST SERVICE
Verified Purchase
THANK YOU LUKE WELL WORTH THE PRICE EVERYTHING WORKING GREAT AGAIN ONLY TOOK ABOUT 20 MINS WILL RECOMEND THANKS AGAIN.