How to Find your Honda Radio Code
There are 2 ways of finding your Honda serial number.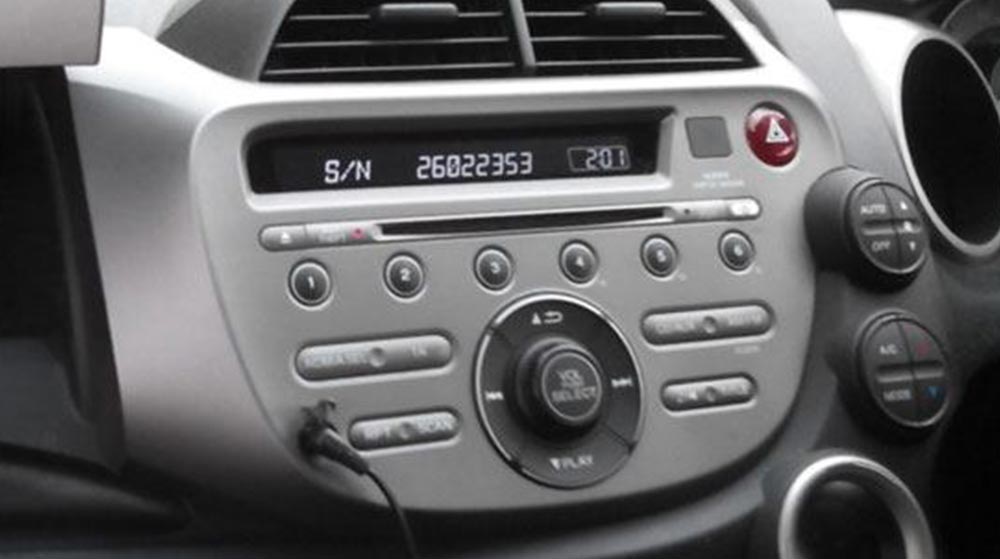 Method 1
Some models of radio allow the serial to be shown on the display.
To do this, hold down buttons 1 & 6 together until the screen display a series of numbers.
Your serial will be similar to the following example: U3000 L1234.
If for any reason the serial does not show, you must use method 2 to obtain your serial number.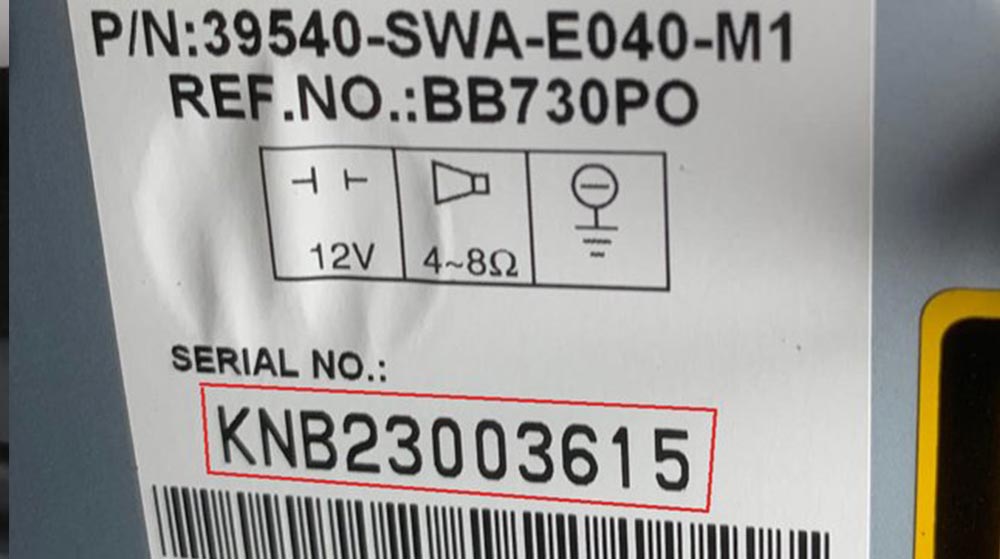 Method 2
Removing the radio from the dash is needed for many Honda and can be done Easily with prying tools and a screwdriver.
First remove the surrounding plastic from around the radio, this will reveal the 4 screws holding the unit in place.
Once removed, all Honda radios are made with a sticker label on the back or side, this is where your serial number is located.
Example serial numbers: U3000L1234 or 22042493.
If your serial begins with 4000, your radio must be decoded by a local dealership only.
How to Enter your Honda Radio Code
Turn on the radio, "CODE" should be displayed on the screen
To enter the code only requires the use of pre-set buttons 1-4.
Start with button 1 pressing multiple times until the correct first digit is shown on the screen
Next repeat the same with buttons 2,3 and 4 until the correct code is displayed.
If you go past your desired number, keep pressing until cycled past 9 and goes back to 0.
To input your Honda Radio Code you need to press and hold one of the following for a few seconds and let go: 5, 6 button.
Finding someone to sort the code
Verified Purchase
Worked fist time no messing !! Well pleased and Luke was on hand to answer my enquiries 5 stars Trevor
Very happy
Verified Purchase
Brilliant service code worked first time with no issues at all. Waited 24 hours for a free code which came exactly on time via email
Happy customer
Verified Purchase
Plain and simple as advertised, working perfectly.
"What it says on the tin"
Verified Purchase
Perfect solution, no need to look any further. Worked first time.
Code worked
Verified Purchase
Thanks
Quality service and customer care
Verified Purchase
Used online form to find code for Ford Fiesta, very straight forward! Followed up by Luke, code worked first time and would fully recommend FreeRadioCodes.com!
Good code
Verified Purchase
I asked the code for my Jeep Sunday morning I receveid the confirmation email, saying in 15 - 30 minutes they give it to me Later Luke asked me a picture from the back of my radio Finally Monday morning I receveid the email with the code It wkrked perfectly
Thanks for the code
Verified Purchase
Thanks for the quick response
Absoloutley recommend great service code came morning after requested works great thanks luke really appreciated
Fantastic & Quick Service
Verified Purchase
Excellent service by Luke who managed to get me my car radio code within 24 hours. Worked first time at a very reasonable price. Thank you so much for your help.