How to Find your VW Radio Code
It is simple to remove your VW radio. You need a flat-head screwdriver or a prying tool for removing the panels off the dashboard.
In old models you need radio release keys to remove your radio.
Push the release keys into the 4 holes in each corner of the radio, applying pressure will free from the dashboard. The label is located on the casing of the stereo.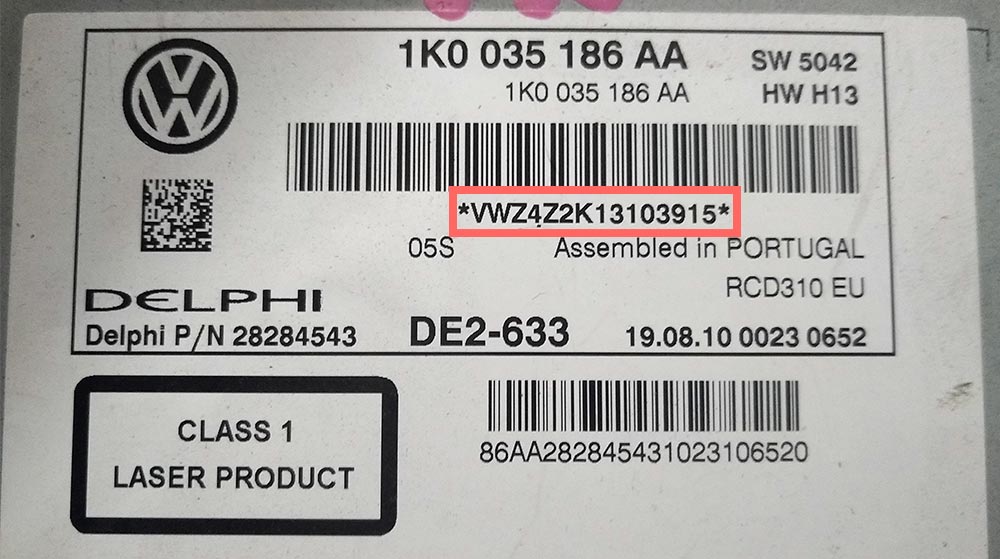 VW Label
On the casing of the radio is a label with your unique serial number printed, all VW radios begin "VWZ" and 14 digits and letters long.
Note: if the label is damaged for any reason the serial number is also compressed into the metal casing.
VW serial number example: VWZ1Z3K1310391
How to Enter your VW Radio Code
Turn on the radio, if "SAFE" is displayed hold down the mode and scan buttons together until "0000" displays.
To enter the code only requires the use of pre-set buttons 1-4.
Start with button 1 pressing multiple times until the correct first digit is shown on the screen
Next repeat the same with buttons 2,3 and 4 until the correct code is displayed.
If you go past your desired number, keep pressing until cycled past 9 and goes back to 0.
The enter button on VW radios varies on each model but 90% of units are holding the "SEEK" or ">>" button to confirm the code into the radio.
Problem solving
Verified Purchase
Had trouble putting my code in. E mailed customer service. Got a reply within minutes from Luke. Problem solved. Excellent service
2 Jersey Road
Verified Purchase
Radio Code
Great Company.
Verified Purchase
This company are brilliant, they found my radio code and it worked 1st time, would use them again and recommend them to others thanks again Luke. Super Service
Excellent service
Verified Purchase
Excellent service very quick
Mem tudom hogyan kell
Verified Purchase
Sziasztok fizetni kell a kodert valaki meg írna mit kell tenni hogy valóban megkapjak a kodot
works great
Verified Purchase
very good service ordered at the night time got it the following morning and it works great thanyou Luke
Saved money
Verified Purchase
Had to change battery on Ford Fiesta, so radio would not work asking for code. Contacted Ford dealer who wanted £25 to reset radio . Contacted Luke at . Code with me in seconds. saved £20. Excellent service.
The code was okey!
Verified Purchase
The code was okey,it took a bit long time,but it works,thank you!
poggers
Verified Purchase
pog
Worked first time
Verified Purchase
Awesome job Luke Thank you very much now I have one happy father in law