How to Find your Renault Radio Code
The serial for a Renault radio is printed on the label on the rear casing.
This means the unit must be pulled out of the dash (without disconnecting any wires) to gain access to the printed serial number.
To gain access to this, you will require radio release keys to pull the unit forward.
When the radio is removed, the serial is 1 letter followed by 3 digits, for example A123.
This is often next to "security" or at the end of a longer sequence of numbers.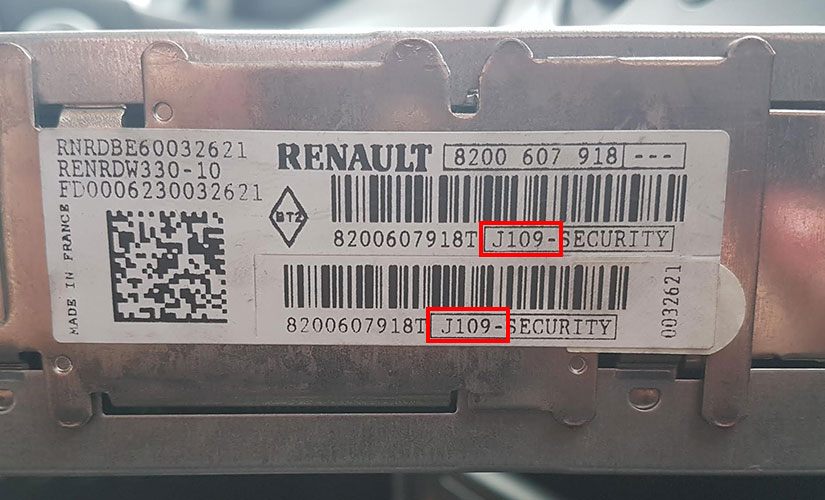 Renault Label
Renault lebel example: J109
How to Enter your Ford Radio Code
Entering a Renault radio code is easy, pressing pre-set button 1 will cycle through the numbers with each press.
Numbers 1,2,3,4 represent each column, for example pressing button 3 multiple times will change the third digit in your code.
Once the correct radio code is displayed on the screen, press and hold button 6 to confirm the code into the system.
Finding someone to sort the code
Verified Purchase
Worked fist time no messing !! Well pleased and Luke was on hand to answer my enquiries 5 stars Trevor
Very happy
Verified Purchase
Brilliant service code worked first time with no issues at all. Waited 24 hours for a free code which came exactly on time via email
Happy customer
Verified Purchase
Plain and simple as advertised, working perfectly.
"What it says on the tin"
Verified Purchase
Perfect solution, no need to look any further. Worked first time.
Code worked
Verified Purchase
Thanks
Quality service and customer care
Verified Purchase
Used online form to find code for Ford Fiesta, very straight forward! Followed up by Luke, code worked first time and would fully recommend FreeRadioCodes.com!
Good code
Verified Purchase
I asked the code for my Jeep Sunday morning I receveid the confirmation email, saying in 15 - 30 minutes they give it to me Later Luke asked me a picture from the back of my radio Finally Monday morning I receveid the email with the code It wkrked perfectly
Thanks for the code
Verified Purchase
Thanks for the quick response
Absoloutley recommend great service code came morning after requested works great thanks luke really appreciated
Fantastic & Quick Service
Verified Purchase
Excellent service by Luke who managed to get me my car radio code within 24 hours. Worked first time at a very reasonable price. Thank you so much for your help.